December 27, 2013
Buddhism in South America welcomed by president of Uruguay: Lama Ole Nydahl meets Jose Mujica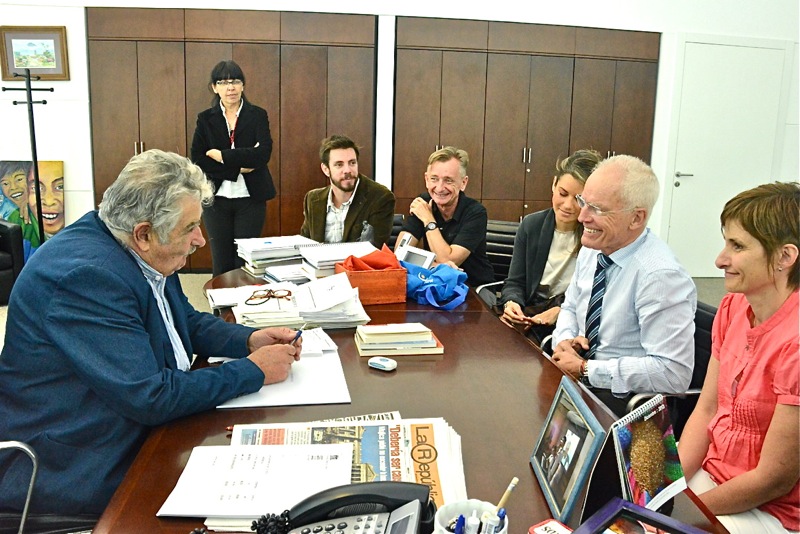 The president of Uruguay, José Mujica, received Lama Ole Nydahl and representatives from the Montevideo Diamond Way Buddhist Centre on Dec 11, 2013. As part of his tour of South America, Lama Ole Nydahl was in Uruguay to visit Diamond Way Buddhist centers and give teachings. The president welcomed Lama Ole's activity and that of the centres of Diamond Way Buddhism in Uruguay. Lama Ole and friends met in the president's office, sat in the seven chairs prepared opposite Mr Mujica's desk and chatted for an hour about Buddhism, literature, South American politics, and exchanged personal reflections.
When they met, Lama Ole Nydahl offered President Mujica a Buddha statue, and received as a present a chunk of amethyst crystal from the north of Uruguay. Lama Ole Nydahl told the president that he and his companions represented lay Karma Kagyu Buddhism, especially the 650 centers that Lama Ole started.
His work to spread Buddhism in South America, Lama Ole explained, started 24 years ago in Venezuela and Colombia, and today Diamond Way Buddhism is available in most countries in Latin America, including Cuba. Lama Ole Nydahl had first come to Uruguay fifteen years ago, and considered that there was a strong connection between Diamond Way Buddhism and South America. In Uruguay, there is a Buddhist meditation retreat center near Minas consisting of 54 hectares of land, which was purchased ten years ago. That very evening, Lama Ole Nydahl would begin a Buddhist meditation course on Conscious Dying (Phowa in Tibetan) at this retreat center. Lama Ole Nydahl has taught around 100,000 people how to die consciously using this practice. President Mujica thanked Lama Ole very much for helping people to die, saying that this is a very important activity.
President Mujica said that as one is born naked and dies naked, one has to be happy with oneself and find happiness on the inside – which is actually a view Buddhists also embrace. He mentioned that if one is not happy with little money, one will never be happy with a lot of money. Those present had the impression of an authentic, deep individual who was beyond material possessions. The facts seem to support this view; José Mujica refused to live in the presidential residence after he was elected, opting instead to stay on his wife's farm and grow flowers. He gives 90% of his salary to charity.
The group discussed Miguel de Cervantes (a writer much admired by Mr Mujica), and how Cervantes wrote his best work after his experiences of battle and imprisonment, which to some degree mirrors some of Mr Mujica's extraordinary life experiences. Now aged 77, Jose Mujica has been named one of the 100 Leading Global Thinkers in 2013 by Foreign Policy Magazine for his progressive policies. These policies have also made Uruguay The Economist's Country of the Year 2013.
In parting, President Mujica thanked Lama Ole for his activity, and assured the visiting group that "the doors are always open". He said that all religions are welcome in Uruguay and stressed that state and religion have been separate there since the beginning of the 20th century. He explained that for centuries South America has always looked up to the outside world, to Europe, and now it is looking inside to find its own values.
Photographs by kind permission of the office of President Mujica and of Demetrio Carrasco