December 27, 2012
Lama Ole Nydahl meets the Queen Mother and teaches in Bhutan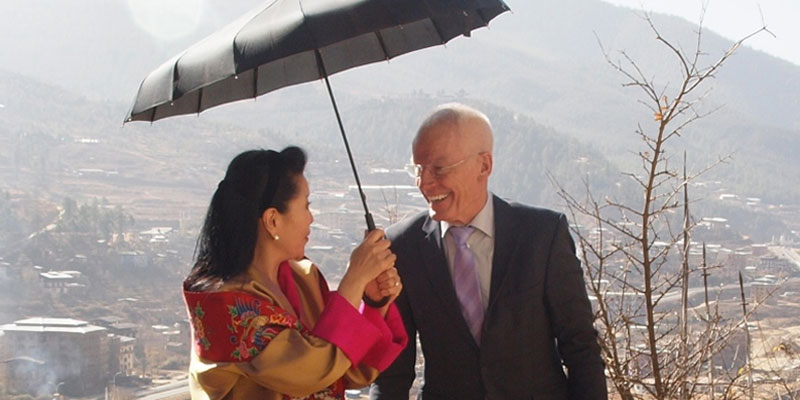 On December 14th, 2012, Lama Ole Nydahl landed at Bhutan's only international airport in Paro. He was warmly received by Prince Dashi Wangdi. As in the previous year, Lama Ole was invited by the Bhutanese royal family to teach and to visit some of the country's main Buddhist places.
The mountainous kingdom of Bhutan, squeezed between India and Tibet is famous for employing the GNH or Gross National Happiness index for measuring the overall well-being of their citizens and the country, as opposed to using GDP. In Bhutan, Buddhism penetrates all aspects of Bhutanese society from arts and architecture to governmental policies.
Lama Ole Nydahl had a fully packed program. His 3-day visit included audiences with two of the four former queens and sisters Her Majesty Ashi Sangay Choden and Her Majesty Ashi Tshering Yangdön, and the Queen Mother of the current Bhutanese king Jigme Khesar Namgyel Wangchuk. Lama Ole also gave a public Buddhist lecture in Thimphu, the capital of Bhutan, and a lecture in an asylum for troubled youth.
Lama Ole also made several visits to important Buddhist places in western Bhutan. Among them were notably the Tiger's Nest (Tib. Taktsang), a meditation retreat place build on a sharp mountain cliff at more than 3100m altitude, dedicated to the famous Buddhist master Guru Rinpoche (Skt. Padmasambhava), who brought Buddhism to Tibet, and the Kyichu Lakhang, an important 7th century monastery near Paro.
The visit to Bhutan was very successful, strengthening connections that had begun in the late 1960s when Lama Ole Nydahl and his wife Hannah became the disciples of Lopön Tsechu Rinpoche, a great Buddhist master who worked mainly in Nepal and Bhutan, and was the uncle of the four sister-queens of Bhutan of that time.